Last week was busy and a lot fun. I spoke to over 1000 students across New York, at 7 different schools and the TV news showed up 6 times to interview me. I was also able to speak at the Rochester Latino Rotary Club, attend a gala for the Buffalo Rotary Club, and the Rochester AM Rotary club held a dinner party so I could meet their members.
Right now I am in Cleveland and trying to salvage a week in Ohio where the AHA was not able to help me out. But thankfully the Rotary clubs have come to my rescue and got me into a few schools in Toledo on Friday. Next week in Michigan is also shaping up to be really busy.
The rain has softened a bit, but it seams to be on an every other day schedule. Thankfully the roads are flat, and the prevailing wind has not been too strong.
Riding along Lake Ontario through apple and peach orchards was fantastic. And it smelled almost as good as riding along Lake Erie through Concord Grape vineyards. That smelled like I was riding through grape jam or jelly.
As always, I ride past our country's history. By chance, the place I decided to touch the water in Lake Ontario also happened to be the home of Samuel Cuyler, who was the northern terminus of the Underground Railroad for the southern slaves. And only a mile or so away from there was the Enchanted Forrest and home of Joseph Smith, who wrote the book of Mormon.
But one of my favorite parts last week was a interview by a FOX news affiliate in Rochester NY. It is so far the best story a news cast has done on Cycle For Heart:
http://rochesterhomepage.net/fulltext/?nxd_id=270707
Probably one of the most unique state houses in the country, this is the New York Capitol in Albany.
On the shore of Lake Ontario, my first great lake.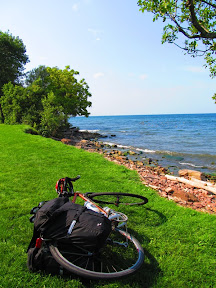 Niagara Falls. I know that the view is better from the Canadian side, but I don't think they get to see the rainbow.
Rochester Latino Rotary Club, they donated $100 to the American Heart Association.
Sprinting with the Students from French Road Elementary, the American Heart Association's #1 school in the country for fundraising, over $1 million in 13 years.
When it's not raining, and the sky is not gray, I see the most amazing parts of this country in all it's beauty
"Know who you are, Know who you want to be, and Follow your dreams..."
-Antonio Figureida
Location:Cleveland OH